Description
Methodology
Collaborators
Health Literacy
Patient education and effective communication are core elements of the nursing profession; therefore, awareness of a patient's health literacy is integral to patient care, safety, education, and counseling. Several past studies have suggested that health care providers overestimate their patient's health literacy.
The overestimation of a patient's health literacy by nursing personnel may contribute to the widespread problem of poor health outcomes and hospital readmission rates.
Methodology
A cross-sectional study was performed using a convenience sample (nurses [n = 30] and patients [n = 65]) recruited from two inpatient cardiac units. Patients and nurses were recruited over a 6-month period. Inclusion criteria included men and women (older than 18 years of age), cardiac-related diagnosis, and ability to read English. Patients were excluded if they had cognitive impairment documented by the admitting health care provider. Patient demographic information (e.g., race/ethnicity, date of birth) was recorded from the medical record. Data about educational attainment were obtained during a patient interview by asking the question, "What was the highest grade of schooling you finished?" The patient was read the following options: 8th grade and below, 9-12th grade without graduation from high school, or graduated from high school. Patients completed the NVS and the SILS. The patient's nurse was then queried to estimate the patient's HL level by selecting one of three questions that reflected the three HL categories of the NVS. The study was approved by the institutional review board.
Collaborators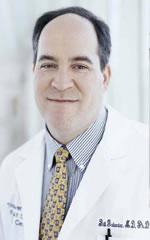 William Galanter MS, MD, PhD
Medical Director, Clinical Information Systems
Medical Director, UIC Physicians Group
Medical Director, UIC Center for Education & Research on Therapeutics (CERT)
Department of Pharmacy Practice
Department of Medicine
Email: billg@uic.edu
Biographic Profile
Dr. William Galanter is a clinician, educator and scientist at the University of Illinois Hospital and Health Sciences System, as well as the Associate Chief Medical Information Officer for the medical center. He also chairs the medical centers Pharmacy and Therapeutics committee. He received his bachelor and master's degrees in Physics from the University of Illinois, Urbana. He received his Ph.D. in Physiology and Biophysics from the University of Illinois at Chicago, where he also received his medical degree. He has an appointment in both the Department of Medicine as well as the Department of Pharmacy Practice.
His educational work centers around pharmaceutical therapeutics and the use of evidence based medicine to promote optimal prescribing, particularly in chronic disease states. His informatics work centers on the use of knowledge embedded clinical software to decrease medication errors and improve care, typically related to CPOE and CDS.
He is a medical director of the UIC CERT. The center is focused on developing tools to optimize patient safety, many with health IT. Dr. Galanter acts as a clinical expert as well as health IT expert. The UIC CERT uses IT as a tool of it's own to help measure and prevent medication errors, as well as a means to more easily conduct trials.