Description
Methodology
Collaborators
Opioid Dosing Simulator
Opioids have been used for generations to treat pain, yet as a class of medications, they rank high on lists of drugs associated with adverse events, including events that result in harm. As part of a 5-year grant from the Agency for Healthcare Research and Quality, Dr. Lambert with other researchers at the Center for Education and Research on Therapeutics (CERT) at the University of Illinois at Chicago (UIC) is investigating issues related to opioid prescribing and pain control in inpatient care by testing the use of an "opioid simulator" as part of resident training.
"Residents do not get well trained in how to use opioids," says principal investigator Bruce Lambert, PhD. "They are either scared to use them, so they use too little, or they are afraid of their patients' being in pain, so they use too much." Dr. Lambert and his team are researching whether residents who receive training on the simulator, in addition to formal didactic teaching, will be more confident in prescribing pain medications and whether their patients will report better pain scores during their hospitalizations.
Among those working with Dr. Lambert are William Galanter, MD, PhD, medical director of the UIC CERT; Diana Wilkie, RN, PhD, FAAN, a nurse scientist and pain expert; and Robert McNutt, MD, who created the first version of the computer-based opioid simulator while serving as chief of patient safety at Rush University Medical Center.
Results and Deliverables
According to Dr. Lambert, the simulator itself is based on a relatively simple concept. The project takes on added complexity in the measurement and analysis of data. Although the team will rely on patients' pain scores and the trend of those scores throughout hospitalization, they will also survey electronic medical record data for evidence of ADEs and conduct chart reviews to validate whether errors occurred.
Additionally, this project involves translating the opioid simulator program to applications that can be used on tablet and mobile devices. The team is working with Discerning Systems, Inc., a company that specializes in designing graphical user interfaces across platforms.
The researchers are excited about the potential impact of this project. "If we can prove our hypothesis, and if simulation can be easily web-based, it could help a lot of patients," notes Dr. Galanter.
Collaborators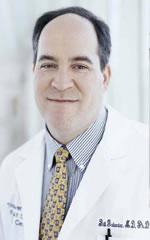 William Galanter MS, MD, PhD
Medical Director, Clinical Information Systems
Medical Director, UIC Physicians Group
Medical Director, UIC Center for Education & Research on Therapeutics (CERT)
Department of Pharmacy Practice
Department of Medicine
Email: billg@uic.edu
Biographic Profile
Dr. William Galanter is a clinician, educator and scientist at the University of Illinois Hospital and Health Sciences System, as well as the Associate Chief Medical Information Officer for the medical center. He also chairs the medical centers Pharmacy and Therapeutics committee. He received his bachelor and master's degrees in Physics from the University of Illinois, Urbana. He received his Ph.D. in Physiology and Biophysics from the University of Illinois at Chicago, where he also received his medical degree. He has an appointment in both the Department of Medicine as well as the Department of Pharmacy Practice.
His educational work centers around pharmaceutical therapeutics and the use of evidence based medicine to promote optimal prescribing, particularly in chronic disease states. His informatics work centers on the use of knowledge embedded clinical software to decrease medication errors and improve care, typically related to CPOE and CDS.
He is a medical director of the UIC CERT. The center is focused on developing tools to optimize patient safety, many with health IT. Dr. Galanter acts as a clinical expert as well as health IT expert. The UIC CERT uses IT as a tool of it's own to help measure and prevent medication errors, as well as a means to more easily conduct trials.